Happy Monday, y'all! Anybody out there s-t-r-u-g-g-l-i-n' with their New Year's diet?
I'm midway through my annual round of Whole30, and the biggest challenge for me lately has been quick and easy meals. Winter weather (which, in south Texas, means anything within 20 degrees of freezing temperatures) always makes me want to wrap myself in fleece blankets, turn on the fireplace, and veg out.
Having to cook real meals really throws a kink into that whole fantasy world, let me tell you.
I'm committed to this, though, so I've been scouring the internets for easy-to-throw-together weeknight meals for EV and I, which has landed me in sheet pan dinner territory.
When it comes to dishes, LESS IS MORE, my friends.
Here's a couple of recipes that are working for us, if you're struggling with easy, healthy options this week!
Sheet pan sausage, potatoes, and green beans. We're big fans of sausage around these parts – blame it on our wild west roots, I guess, but my kid could live off of jerky or sausage! I love that it's quick to throw together on a weeknight, so it's a win for both of us. I used sweet potatoes in this recipe because I had them on hand, and we scarfed it down, so it's safe to say that you can substitute whatever your little heart desires here and it's going to turn out just fine.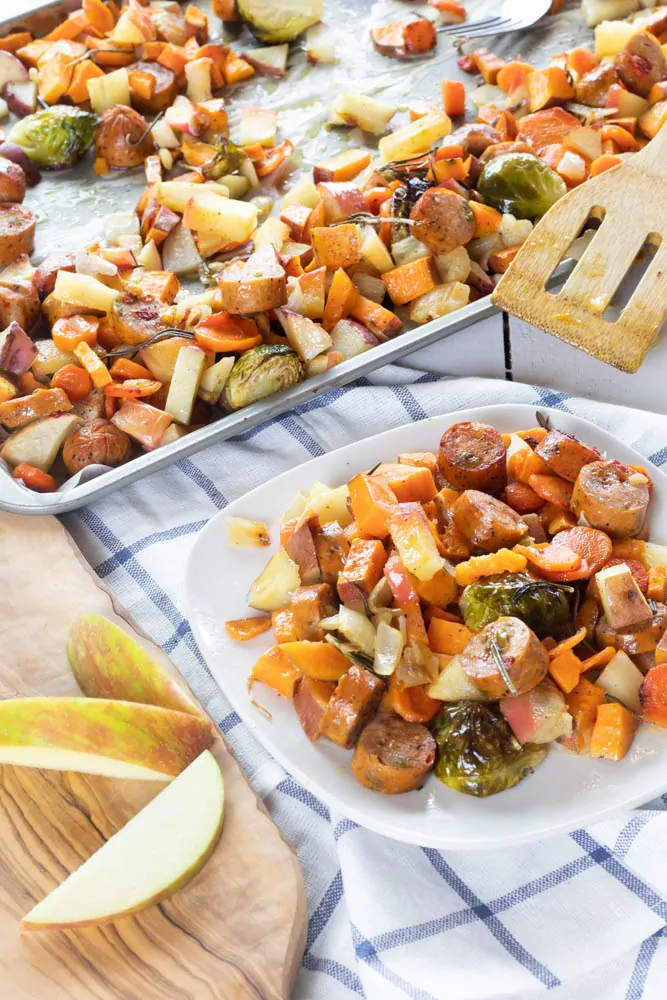 We actually started making this sausage and apple sheet pan meal back in the fall when the weather turned a little nicer than, oh, say, 3,000 degrees, and it's one we've pulled out regularly since then. We love that it's savory and sweet at the same time, especially right now, when all sweets are off limits for us!
My kiddo is pretty decent at eating her veggies by now; we've been eating clean (for the most part) for the majority of her life, so she's used to seeing things that most toddlers wouldn't touch with a 10-ft. pole, and I am smart enough to COUNT MY BLESSINGS, y'all. I know that she's a unicorn in that aspect, and my hat is all the way tipped at other toddler parents because I know it can be a struggle.
Not with broccoli, though. Somehow, the magic of eating 'little trees' works for my toddler and her cousin, too, who is decidedly less enthusiastic about other veggies. We like this meal with cauli-rice, but it's great by itself, too!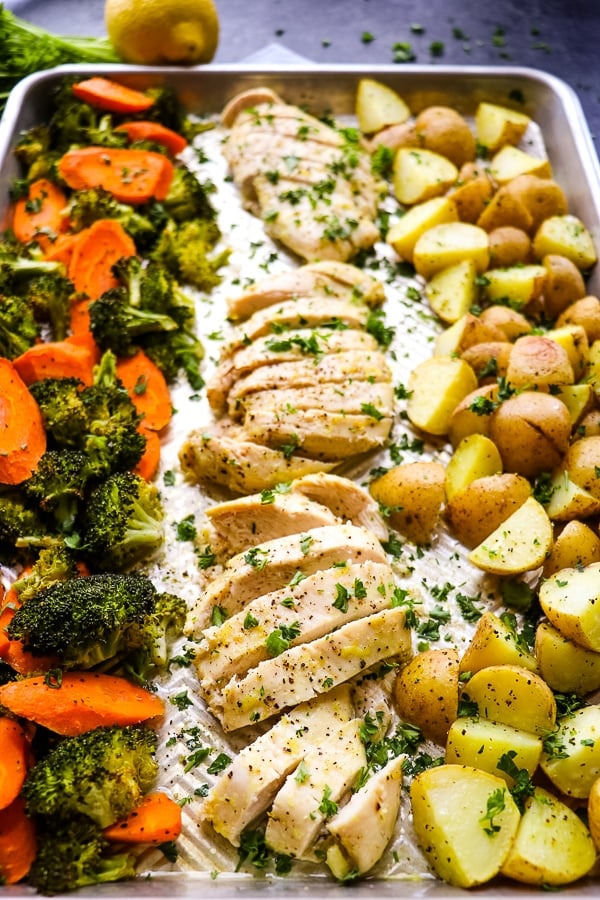 There's probably never going to be a time that I'm not 100% down with potatoes. I can't be certain, but I feel pretty confident that carbs might just be my love language, which is a pity, being insulin resistant and all.
Whole30 does allow for the use of potatoes, and while I tend to stick to sweet potatoes as a rule, sometimes I just want a little comfort food. This is that, for me.
This is actually two weeks of recipes for us right now, because EV eats at daycare and I take a salad to work for lunch. I realize that isn't everyone's food situation, but I'm fortunate to be able to minimize my time spent on meal prepping because of our schedule. We eat differently when J is home, though – we'd scarf this up in a week.
Happy Monday, y'all!