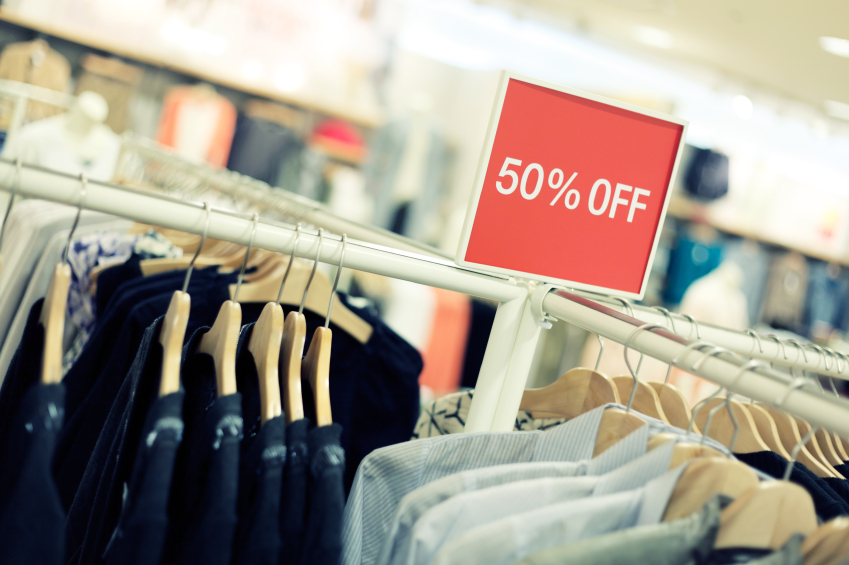 We made it to the weekend, y'all! This may sound like an exaggeration (it probably is) but I HAVE NEVER BEEN SO READY.
Usually, I like to take Fridays to focus on one trend or type of outfit, but I thought it was time we talked about shopping STRATEGY, which, if you're a bargain shopper or you WANT to be one, you need one of those, like, post-haste.
SO. Let's talk about shopping, shall we?
I'm a big fan of scoring great deals, but I'm NOT a huge fan of pawing through endless racks of castoff clothing. My ADHD zings ALL over the place in those types of situations, and I've learned that I will either walk away from great deals, or load myself down with good deals that I don't actually need.
Here's a couple of tips that help me shop smart – and stay sane!
SHOP OFF-SEASON. My style is pretty straightforward and 'classic', so I stick with tried-and-true silhouettes and styles when I'm creating a look for myself. I already know which colors and fabrics I like. I generally know what size I tend to be. So it works out well for me to shop end-of-the-season clearance deals.
Those are usually two to three months after the season begins, as retailers are clearing space for the upcoming seasons by that point. So if you're looking for winter clothes, keep an eye out in January/February. For springtime styles, May/June is your sweet spot. For summer markdowns, August/September is where you'll want to start looking for deals. These months are usually my biggest 'haul' months, because we live in south Texas and get a lot more mileage out of summer clothing and swimsuits than say, ALL OF NORTH AMERICA EXCEPT US. Not that I'm bitter, you understand. #teamsnow
KNOW YOUR PRODUCT. When you're clearance shopping, it's really easy to get caught up in the allure of red- or yellow-stickered items that WERE a certain price, but NOW they're so much less. It's not necessarily a bargain just because it's marked down. Know how much an item should cost – or at least an approximate value – and don't let yourself be taken in by the word 'clearance', no matter how many signs or colored stickers they put in your way.
DON'T BE A HOARDER. Y'all, this is hard. You're standing there, holding an off-season markdown that is a total STEAL. But you don't need it. Your kid doesn't need it. You have plastic tubs stuffed FULL of things just like it. But it's a bargain. You might never find one so cheap again. It's super cute. But You. Don't. Need. It.
Let's be real. It's so, so easy to go down that road and build up a stash of things that you may never use. Because it's CHEAP, and the thrill of the find can be addicting.
But that's just it; bargain hunting can absolutely become an addiction. I see you, mama, feeling lonely and a lot like you have nothing better to do. I see how you light up when you describe that sweet deal. I understand the pride in your voice when you talk about the stacks and stacks of things you bought that you and your family will never need. But HOLD YER HORSES, sister. Bargain shopping isn't a bargain if it drains you. It is NOT worth your family finances, your relationship with your spouse, your floor space, or your sanity.
I'm no Dave Ramsey, but I have traveled the path of over-shopping with my very own two feet and swiped-out debit card, and I can tell you that bargains can easily become an overwhelming vice.
That being said, if you're strong and brave and ready to do some damage, there are some fairly general timeframes you can use if you're looking for something specific:
Appliances: Manufacturers usually introduce their new lines in the spring, so dealers try and get rid of inventory during the winter months. You'll likely find bargains and sales December through January.
Electronics: The International Consumer Electronics show happens the first week in January, so retailers are usually motivated to get rid of their existing inventory in late December through January.
Formals and Party Dresses: Sales for party clothes tend to hit their peak just before the winter holidays, so a good time to look for these items would be late December to January.
Furniture: Furniture sales are lower at the end of summer, so dealers start marking down furniture starting Labor Day weekend. Your best bargains might be during the month of September.
School Clothes and Supplies: The earlybird gets the worm (and that darn elusive purple folder WITH THE BRADS) here. These types of items will be on sale in July.
Vehicles: New year models become widely distributed in October, so if you're looking for a bargain on a current-year new car, that's a good time to look. Dealers push out more deals between Christmas and New Years' to try and sell as much as possible before the year ends, too, so October and late December are good bets for a new (or used) vehicle.
White Sales: If you need to stock up on bedding, towels, or other linens, you want to start looking after the holidays. You can save up to 50% on those items if you shop in January.
Winter Clothes: Maybe because Grandma is buying sweaters for everyone, or maybe not, but clothes are actually a popular holiday gift item. Sales tend to slow down after Christmas, and stores are getting ready for spring merchandise, so prices will drop in late December – early January.
That's all I have for today, y'all! What shopping tips do you use to find amazing deals?