Well, we're officially in the thick of it, as the old timers like to say.
Summer is here, and the heat waves are starting to roll off the asphalt and mess with my blinded eyes.
I should stop here and remind myself that I'm truly grateful for the gift of life, the love I share with family and friends, the very blessing that each breath is.
And I am. Oh, I am.
But I get a little grumpy about breathing that breath of life in triple-digit temperatures, even if I can see the bright side of fresh air and summer activities and hours spend on the water and in the sun.
Deep breaths. Back to the subject at hand.
So anyway, since I obviously have strong feelings about summer (or, more specifically, about being HOT AS BLAZES), I tend to make some adjustments when it's this warm.
One of those is our meal plans, because heating up my kitchen further sounds about the least fun I could possibly be having, if I'm honest.
I'm still following a 'lazy paleo' lifestyle, and we're happy with it. We indulge when we want, but feel our best when we're eating mostly paleo, which, you know, lends itself well to salads and also crockpot meals.
So I've been on the hunt for summer appropriate paleo recipes to work into our mix. I like to take a neighborhood bike ride in the afternoons with EV, but that means I'm a sweaty mess by the time I'm cooking dinner. Most of the time, that also means I'd prefer to cook dinner inside my fridge, but we can't all have what we want in life.
Anyway, here's what I've added to our rotation so far!: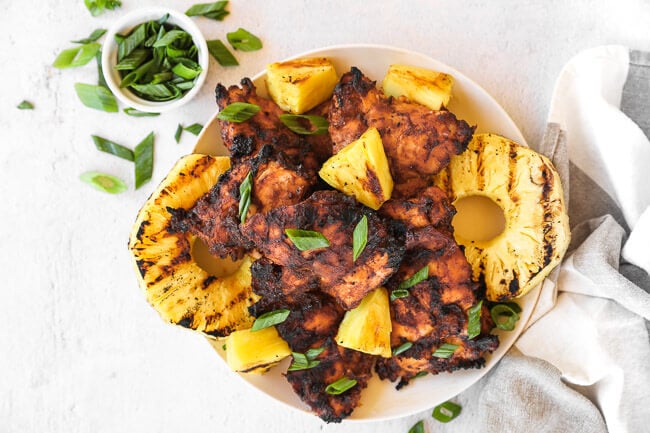 This healthy grilled pineapple chicken recipe from Real Simple Good has become a fave of ours. I'm not the biggest fan of grilling, personally – I prefer to let the grillmaster in our family handle that. But I can make a big batch of this and EV and I can enjoy it several times and not get tired of it. It's like a healthy Hawaiian chicken, without all the refined sugar.
Have I mentioned that I don't love dealing with the grill? This steak fajita salad actually uses steak fajita meat prepared in a cast iron skillet, and me and my cast iron skillet are a WHOLE VIBE, y'all. I love using it and love that I can meal prep the meat and amazing cilantro-lime dressing ahead of time. Give it a try, y'all.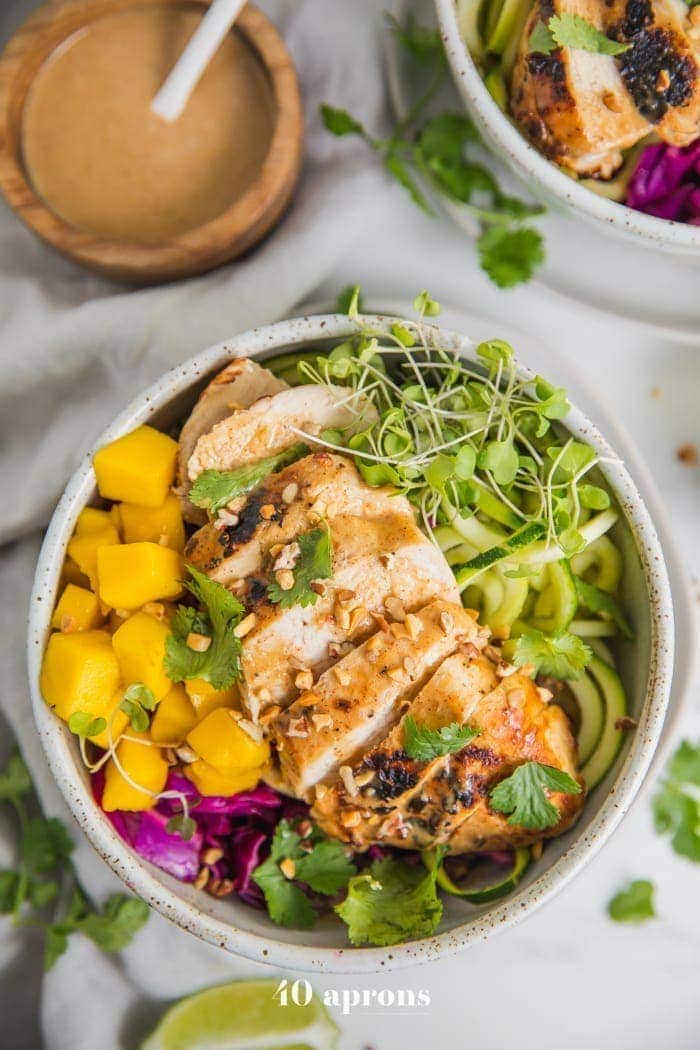 This Thai chicken zoodle bowl with a 'peanut' sauce is Whole30 friendly and so flavorful for being a lighter, summertime dish. I'm slightly allergic to mango, so I used pineapple instead and EV and I loved this.
I'm a fan of this recipe from the Healthy Consultant for zucchini taco boats. EV wasn't as much of a fan, but she's a texture person and doesn't care for the zucchini. She gobbled up the toppings, though, so I consider it a partial success!
So what do you cook when the weather heats up?