Fun Friday fact; today marks exactly 3 years since my daughter's original due date. She came on her own terms a week before she was due, and she's been living her little life the same way.
She's got her OWN THANG going.
Anyway, she's not yet at an age where she gets to pick her clothes. I'll let her pick which outfit she wants to wear, but she's picking from the selection of curated outfits I've already assembled. Mama's still got the final say.
I'm not naïve enough to think this will last forever, but while it does, I GET TO DO ALL THE SHOPPING.
And that's just fine by me.
Here's what I'm carting for my girl's summer wardrobe: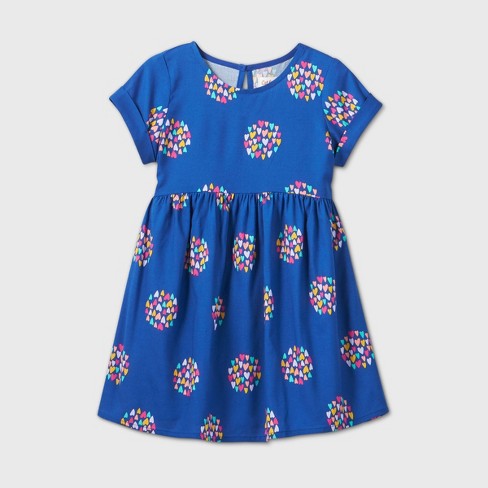 Short-sleeved dresses like the one above from Target. We have this one and while it gets more wrinkled than mama would like, the colors are bright and happy and my girl looooooooves a good heart motif. It's, like, totally her favorite shape.
Girly girl for life, man.
We bought this dress for fall in a mustard floral print and loved it so much that we came back for a spring version. There's nothing like tried-and-true!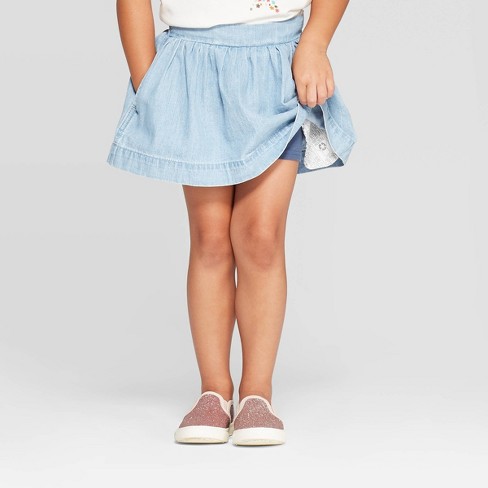 You can't tell me that a good, basic skort isn't the MUST-HAVE piece in a little girl wardrobe, y'all. EV's worn Cat and Jack denim skorts since she was a newborn, and I keep buying them in her size ups. They go with everything, so they're easy to style, and now that she's a big girl, they cover her up when she's climbing around the playground.
If you have a toddler girl, GET YOU SOME. We have this one in both a light and dark wash, and I'm considering going back for multiples, because, well, THEY GO WITH EVERYTHING.
I love skirtalls, y'all. There's something so sweet and little girly about them, and I love that this one can be paired with a number of different shirts and totally work. A turtleneck for fall, a sweet little Peter Pan collared shirt to dress it up, or any solid colored t-shirt will totally change up the look here, and all using the same skirtall.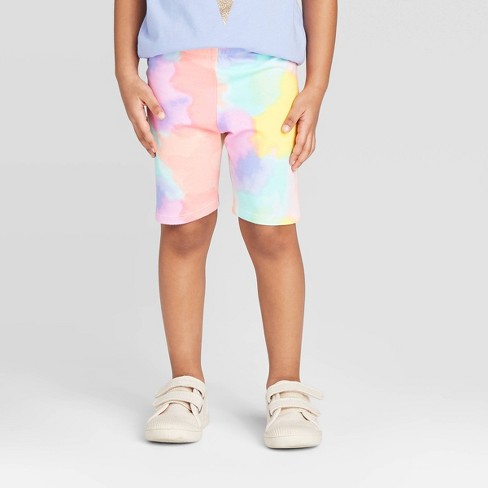 Bike shorts are here to stay for 2021, style-wise. I'm still iffy about it, personally. But toddler style isn't the same as mama style, and my toddler regularly flips upside down for funsies. She needs something with coverage, and these work well for us. I love that Tar-jay has several prints and colors to choose from; EV wears them several days a week to school in the summer and we've yet to destroy a pair completely, so SCORE for durable, toddler-proof shorts!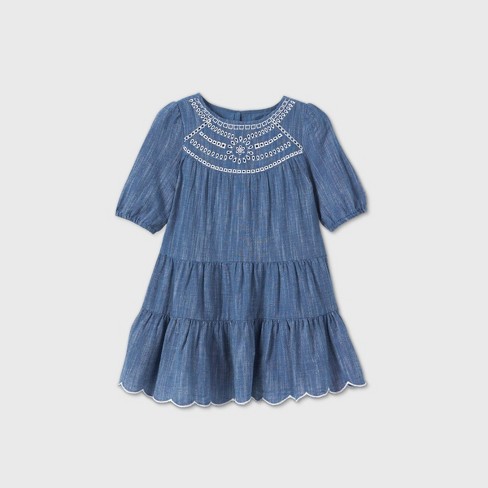 This is a clearance find I threw into my cart last-minute. I loved it when it came out last fall, but didn't spring for it because EV had soooo many clothes then. But since it's on clearance… Well, it was time. It's too hot for her to get a lot of daily wear out of this dress, but she'll wear it to church, so mama's going to get her money's worth, y'all.
What are you shopping for this weekend?
Happy Friday, friends!